Support the future of the arts in the Tigard-Tualatin area
Art in the Burbs was purposefully and creatively designed to weave local artists with student artists.  20% of each artist's sales will be retained to benefit The Foundation for Tigard Tualatin Schools' (FTTS') Art in the Burbs Grant program. Grants are awarded to each of the district's schools to use only in their Arts programs – music, fine art, performing art, and writing. FTTS is a 501(c)3 organization.
Art in the Burbs provides a financial vehicle to enrich students' lives through the arts.  Click here to see how proceeds from last year's show were used.
The Foundation for Tigard-Tualatin Schools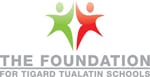 Mission Statement: To expand the possibilities for learning. The Foundation invests in our students by funding programs that advance student achievement and success. For more information about The Foundation, click on their logo.
Watch how Art in the Burbs Grants benefit our schools.
Our Art in the Burbs Grant helped us to re-vamp our Art Literacy program this year.  We went through all of our supplies and updated them to meet the standard of quality that the District Art Literacy program requests for schools.  This funding impacts ALL 530 Deer Creek students!
Tiffany Wiencken